Group One-winning trainer Don Grubb passed away on Monday.
Based at Feilding for many years, Grubb's leading representatives included the high-class trio of Tanalyse, Always Summer and Gatcombe's Pride.
"I enjoyed a good association with Don when I was living in Feilding," former top jockey David Walsh said. "Tanalyse was a terrific horse and I still say that when he won the Telegraph in 1986 it was the best performance from a horse I'd ever ridden, it was amazing. We also won the Lion Brown Sprint at Te Rapa.
"Always Summer was a very good horse. I won the Winter Cup on her and two starts later we won the Kelt (now the Livamol) at Hawke's Bay.
"I rode Gatcombe's Pride a few times for Don and we won the Cornwall Handicap. He was a very consistent horse and always carried plenty of weight.
"He was one of the few horses that won on all three days at Trentham in July."
Chief Joseph, the winner of 10 races, was another leading handicapper for Grubb, who also trained with his son Kevin for a period.
"Don was a very good trainer and he liked a bet," Walsh said. "He was a real character and it was never boring being around him.
"When he finished training, Don and Kevin opened a second-hand store in Feilding, which did very well."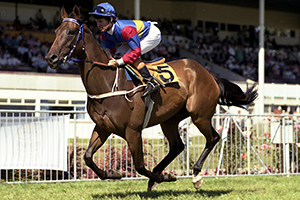 Tanalyse - G1 winner